If you're anything like me, the month or so of meaningless college football bowl games that starts on the Fourth of July and goes through Flag Day gets to be interminably monotonous and boringly predictable. But because I'm not inclined to take any chances, I bought the College Bowl Bundle on Sling this year.
Whew! I'm glad I did.
I happened to see a listing for a matchup between the Stan Ford Academy of Power Mechanics and MIT (Mid-Indiana Tonsorial) in the Cap'n Crunch Cereal Bowl, airing live at 2:00 a.m. EST from Aloha Stadium in Honolulu. The game was a low-scoring affair, with MIT winning 6-0 on a walk-off touchdown to end the game. The amazing part was what happened after 59 minutes and 50 seconds of bush-league football.
All the Marbles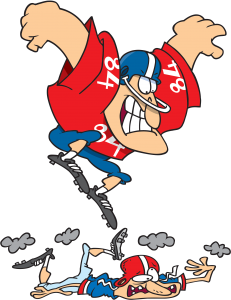 With 10 seconds left on the clock, MIT's punter, Irv Forbush, was lined up in the backfield, waiting to kick the ball from his own 1 yard line. When the ball was snapped, Stan Ford linebacker, Butch Wasilewski, broke through the line and blocked the punt. That was the good news for Stan Ford. The bad news for Stan Ford was that Butch was called for taunting Irv after he blocked the kick.
The worse news for Stan Ford was that Butch earned the taunting penalty because he did the Mac Shuffle, a combination of the Macarena and the Teaberry Shuffle, which Butch had also trademarked in violation of NCAA rules against college athletes owning intellectual property. The really bad news for Stan Ford was that Butch did the Mac Shuffle on Irv.
The disastrous news for Stan Ford was that, after the penalty, MIT got the ball at the Stan Ford 46 — 15 yards for were assessed for taunting, 15 for unnecessary roughness, and another 15 because Butch said Irv's grandmother wore combat boots — with the same 10 seconds left on the clock.
When the MIT offense took the field, MIT quarterback, Milt Freemish, took the snap, ran the ball to his right on a play-action pass, then casually launched it 54 yards across the field to the left corner of the endzone where it was caught niftily by wide receiver Duke Blintz for the touchdown. Game over. MIT wins.
The Aftermath
Asked about the way game ended in the post-game press conference, Stan Ford head coach Jake Lewis said, "I don't know if Butch is the dumbest white boy on the planet. But it's so close, they canceled the contest."
It was later announced that Butch Wasilewski had opted to forego his senior year of NCAA elibility and enter the NFL draft.
Irv Forbush is expected to be out of traction and eligible to play in the Peeps Bunny Bowl on Easter Sunday.