For several months, Anne and I have been attempting to buy a new home. From that experience, we can tell you: Everything you hear about how crazy the real-estate market is right now is true, at least in Connecticut.
Buying
Since we promised ourselves we wouldn't participate in any bidding wars, we lost at least seven or eight of the properties on which we made offers. On one, there were 29 different offers. And the place wasn't all that nice to begin with. Homes were selling, for cash, at tens of thousands of dollars above the asking prices. We never did figure out where all those people, with all that cash, were before the bubble. Neither did we figure out why they were willing to spend so much on less-than-stellar properties.
Lest you wonder why we might have been willing to bid on something less than optimal, Anne is in the optimizing business. As Grandpa O'Brien surely would have said of her, "She can make a silk purse from a sow's ear." The photo above was taken in the home we're selling. The two goofballs in the photo, Sammy and Eddie, compliment Anne on her taste and style all the time. That's why we let them stay and continue to treat them like the royalty they are not.
Selling
The other side of the real-estate transaction is just as nuts. We listed our home for $13,000 more than we thought we could get for it, and it sold for $20,000 more than that.
It was purchased by a lovely couple, Betty and Dave Vaguely, who also have homes in Connecticut, Florida, and Vermont. They bought our place sight unseen from Florida. After seeing the listing on Realtor.com, they contacted their agent in Connecticut. Their agent conducted a tour on FaceTime, and they pulled the trigger.
When they returned from Florida, they came for the obligatory walk-through. Anne and I met them briefly before bailing out with Sammy and Eddie so Betty and Dave could be comfortable as they took stock of the place. Before we left, we overheard this conversation between the Vaguelys:
Do you like the place? Betty asked.

I couldn't say, Dave replied.

Could you say 'maybe'?

I might.
When we heard that combination of enthusiasm and definitiveness, we knew the deal was done.
Buying Again
Anne had been contacted by a contractor who was interested in seeing if he and Anne might do some work together. He suggested he and Anne meet at a property he's working on in a nearby town. The property is a mid-century ranch with a detached, two-car garage. The place was stripped to the studs and wasn't anywhere near ready to be put on the market. As soon as Anne recognized its potential, we contacted the owner and asked what he wanted for it. He told us. We bought it.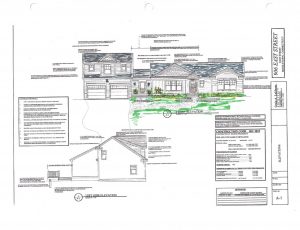 By the time Anne is finished … uh … optimizing it, the garage will be attached to the house by a breezway. The roofs will be ripped off the garage and the house. A bonus room (my new office) will be built above the garage, complete with a full bathroom and conference space. (I'm still negotiating with Anne for a spa.) The roofline of the house will be changed to include two peaks. The interior will be entirely custom, from cabinets to fixtures, from appliances to flooring. And the exterior will have new siding, new doors, and new windows.
Sammy is negotiating with Anne and me to get rid of Eddie. He swears he'll behave himself if we do. But we're not buying it.
The Upshot
We have to be out of our old home by April 28th. We'll be able to move into our new home somewhere between April 28th and May 26th. As ardent proponents of the Good, Fast, and Cheap Rule, we don't care when:
People want everything good, fast, and cheap. But you can only get two out of three:

Good and cheap, but it ain't gonna be fast.
Good and fast, but it ain't gonna be cheap.
Fast and cheap, but it ain't gonna be good.
Everything that's supposed to happen does. The keys are (A) to be patient with everything and (B) to force nothing.