About a year ago, I published a post about a practical joke I'd attempted to play on my grandson, Evan. It blew up in my face. But it didn't change me or prevent me from pulling his leg.
From Wednesday, April 27, to Monday, May 2, I was with Evan (now nine years old) and his sister, Maia (now six years old). My son, Sean, and his wife, Lauren, got away to celebrate their 10th wedding anniversary. So, I flew to North Carolina to stay with the kids while they were gone.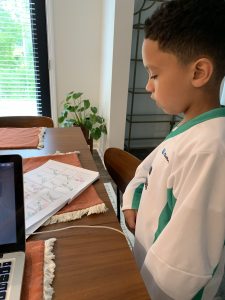 Evan's encyclopedic mind is now focused completely on basketball. (He happens to be a straight A student in school, indicating basketball isn't a detrimental distration for him. And he still wears his Pittsburgh Picklepusses jersey.) As a result, he plays NBA basketball in every spare moment on his Nintendo Switch. The game includes every player imaginable, past and present. And it allows you to create players. Naturally, Evan has added himself and now has eight MVP awards at last count.
At one point while I was down there, he asked me who was the shortest player in the history of the NBA and who was the oldest. I told him they were the same person, Floyd McGillicuddy. I told him Floyd was only three feet tall, and he played in the league until he was 84. Evan promptly created a profile for Floyd in the Switch, had him selected by the Boston Celtics, and proceeded to play against him. (Evan put himself on the Philadelphia 76ers.)
When you create a player profile in Switch, you have to select physical attributes (height, weight, wingspan, shoulder width, etc.) and the strengths of the player's game (shooting from the left, right, or middle of the court; dribbling ability; defensive ability; and so on). You also have to indicate if the player's ever been injured. (I told him Floyd had once been run over by a cement mixer.) Based on what you enter, Switch derives statistics for the player's most recent season and for his career.
When Evan read Floyd's stats to me, Switch said Floyd had .7 steals. I asked Evan how it was possible to steal seven tenths of a ball and which part of the ball Floyd stole. I also told him that stat must be wrong because Floyd was really good at stealing and had been a bank robber before he joined the NBA.
This time around, Evan believed precisely nothing about anything I told him. But we laughed the entire time I was there. And the 76ers beat Floyd's teams in the playoffs every year, except for the first year Floyd was with the Miami Heat after a trade. I'm not sure if he stole the other three tenths of the ball during that series.
The Little Girl
Over the weekend, Maia and I watched Back to the Outback, Dog Gone Trouble, Gnome Alone, Over the Moon, and a few episodes of The Thundermans, which Maia selected completely at random. On Sunday afternoon, Evan had to go to a birthday party for one of his school pals. After we dropped him off, Maia and I went home. When we got there, Maia asked if I would go up to her room with her. I did.
She turned the light on in her closet, went in there, and closed the door. When she went in, she was wearing a t-shirt and a pair of warm-up pants. When she came out, she was wearing the dress you see in the photo to the right, along with matching pink leggings.
She smiled at me as she approached the Alexa gizmo on her nightstand and said, "Alexa, play Disney tunes." That's exactly what Alexa did. While the music played, Maia sang every one of those songs and danced to a few of them, unabashedly. And I sat on her bed, took photos, and fell ridiculously in love.
Rules of Engagement
Sean and Lauren have done an amazing and admirable job of teaching Evan and Maia to be polite and respectful and to understand their responsibilities. On those few occasions on which they attempted to take some liberties with those responsibilities, I'd remind them what their mom and dad expected from them, tell them I was charged with making sure they did certain things, and say, "And as you know, I'm way too young to get in trouble."
They, in unison, would respond, "NO! YOU'RE TOO OLD!"
I can only hope they had half as much fun as I did.